Academy of Media Arts Cologne (KHM)
From July 21 to 25, 2021 – diploma presentations on site with an exhibition at Filzengraben, with film programs in the Cologne-Müngersdorf bike stadium, in the film forum in the Museum Ludwig
as well as other activities in the city and online
www.khm.de/khmopen
At the end of the summer semester, KHM Open 2021 * Diplome presents works by around 30 of the more than 50 diploma students in on-site exhibitions at the KHM and in film programs in the Filmforum in the Museum Ludwig and as an open-air cinema in the Radstadion in Cologne-Müngersdorf, who completed their studies in media arts at the KHM in 2020/2021. Mixed media, sound and video installations, photographic works, net art, literature, performances / live art as well as animations, experimental, documentary and feature films are shown. In addition – in some cases beyond the actual event period – various student projects can be seen on various digital exhibition channels as well as in public spaces.
Exhibition (at Filzengraben 2)
Wed, July 21, 6–9 p.m.
Thu – Sun, 22. – 25. July, 2–8 p.m.
Please inform yourself in advance on our website about the infection protection regulations that apply to visiting the KHM.
https://www.khm.de/Ausstellungsparcours_am_Filzengraben/
Film programs in the Cologne-Müngersdorf Radstadion
on July 21, 22 and 23, 9:30 p.m. to midnight (entry 8 p.m.)
Free admission. Online registration in advance is required!
You can find more information and links about ticket reservations here:
www.khm.de/koln-mungersdorf
Film programs in the Filmforum in the Museum Ludwig
Wed, July 21, 7 p.m.
Thu, July 22, 4:30 p.m. and 7 p.m.
Admission free. Online registration in advance is required!
You can find more information and links on ticket reservations here:
www.khm.de/museum-ludwig
Actions by students in the city
– Digital City Light Posters (CLPs), July 20 to August 2,
Breite Straße, Ehrenstraße, Schildergasse, Neumarkt
https://www.khm.de/termine/news.5178.khm-open-2021-aktion-digitale-clps/
– Posters for advertising pillars in Cologne, July 23rd to the end of August ,
https://www.khm.de/termine/news.5174.khm-open-2021-aktion-kolner-litfaSssaulen/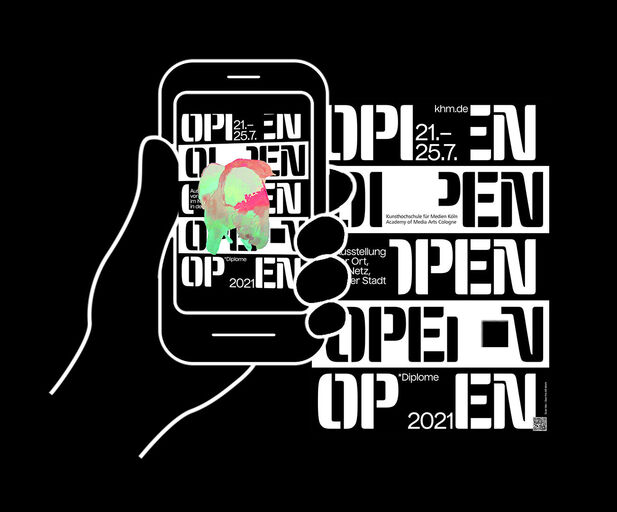 Organized by the ctrl-space seminarrrr featuring videos, interventions, performances and various uncategorizable works by participating students.
The works on display reflect the difficult conditions for art during the pandemic and are partly very personal reactions to the experience of being locked out, from each other and from the social space KHM. The proclamation of the KH門 Festival is the counter-proposal, the ceremonial opening of all spaces to the public. The title is a pun on "KHM". 門 is the Chinese and Japanese ideogram for gate/door and is pronounced [mu:n] / moo͞n in Korean, and similarly in many East Asian countries.
Video works are exhibited at windows facing the public sidewalk (along with a live view of the "Netze Open" site) featuring Jey Yoo, Kihuun Park, and Ting-Chun Liu; portals to an augmented reality work by Julia Vergazova are distributed around the area; Bidisha Das performs an audio walk capturing electromagnetic interferences; Kihuun Park invites immigrants to share stories; cryptic artifacts and invitations to connect and share by Cao Bijun can be found in various places around KHM; Jeesoo Hong and Hye Young Sin question the interaction with non-human agencies; and Naoto Hieda hosts an exhibition of a browser-based performance project with Jorge Guevara on a construction site. — The ctrl-space seminar is led by Christian Sievers.
---
?Netze Open
An online exhibition featuring a collection of artworks electronically posted on Netze Discord, an open platform for KHM students and anyone interested in participation.
Since the Netze curatorial team is taking a vacation and failed to deliver meticulously selected artworks, all the latest artworks on Discord are indiscriminately exhibited in the online gallery and updated in real time by a competent bot:
http://netze.khm.de + Join the Discord here to contribute.